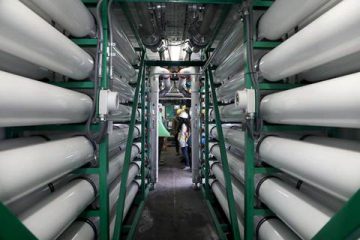 Reverse osmosis filtration takes place during a water reclamation project at Energy Center San Francisco. Photo: Liz Hafalia / The Chronicle
From 2011 to 2016, I was project manager for Interactive Resources on a project for BART to repair extensive leaks into the BART Powell Street Station that had plagued BART for decades and had stymied continuous previous repair attempts.
The solution ultimately involved injecting urethane grout through the ceiling of the station into the soil above to create a new waterproofing system to replace, or augment, the original Bentonite system that had failed.
Our investigation revealed a complicating factor that had played a role in both exacerbating some of the leakage as well as thwarting previous attempts to repair it. It turned out that there was an ultra-high temperature steam pipe running the length of the station above the ceiling in the soil above. Despite extensive insulation and encasement in concrete, the heat was raising the temperature of the surrounding soil and could even be felt radiating through the concrete ceiling. The steam pipe was operated by NRG and supplied steam to a number of buildings bordering Market Street.
Read More