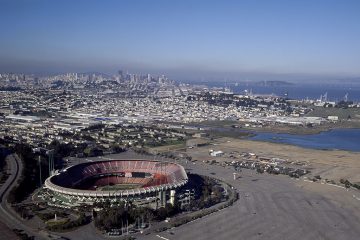 Candlestick Park in the forefront of this aerial of San Francisco, California, taken by Carol M. Highsmith
October 17, 1989, I was in my Point Richmond office talking to a client in a high rise in San Francisco. All of a sudden, he yelled, "holy shit," and I heard crashing in the background (It was his bookcases falling over). The phone went dead. A few seconds later, it hit our building, and we all spilled out into the street.
Later, we climbed to the top of Nicholl Knob where we could see the Marina District of San Francisco burning and the collapsed section of the Bay Bridge. I thought it looked like 1906 all over again.
I was in the office at daylight the next morning when I got the call from the head of the San Francisco Recreation and Park Department. "How soon can you get your engineers over here?" he asked.
Read More